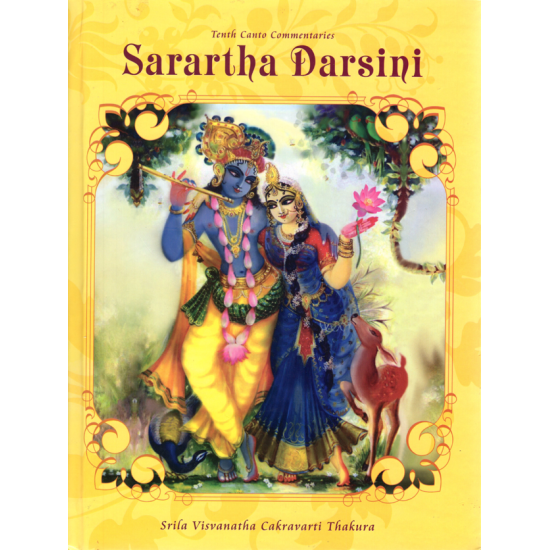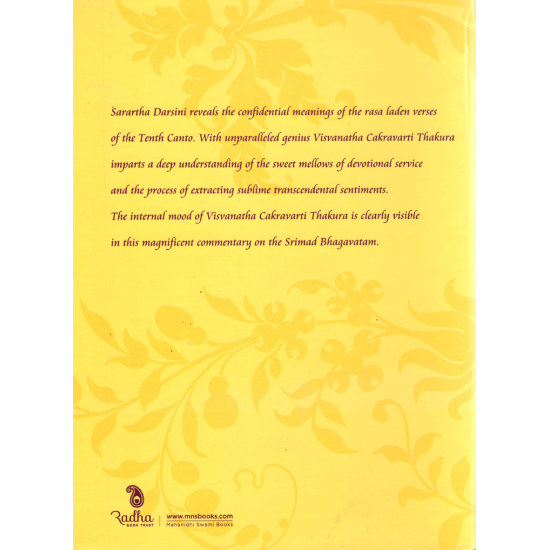 New


Sarartha Darsini, Srila Visvanatha Cakravarti Thakura
Srimad-Bhagavatam Tenth Canto Commentaries

Sarartha Darsini by Srila Visvanatha Cakravarti Thakura contains wonderful commentaries on the complete Tenth Canto of Srimad-Bhagavatam. By his elevated realizations, illuminating dialogues, hidden inner meanings, technical analysis of Sanskrit words, and by his sweet revelations, Srila Visvanatha Cakravarti Thakura reveals the essential meaning of each rasa-laden verse of the Tenth Canto.
The title of this book, Sarartha-darsini, means to see (darsana) the essential (sara) object (artha). This book reveals the most confidential purports of the Srimad-Bhagavatam, and gives immense pleasure to the Vaisnavas. Unparalleled genius Visvanatha Cakravarti Thakura imparts a deep understanding of the sweet mellows of devotional service. The book was completed in 1704 A.D. Translation by Bhanu Swami; editing and publishing by Mahanidhi Swami. With Roman transliterations of the original Sanskrit verses, English translations, and full commentaries.
Devotees who read Sarartha-darsini, which is full of Krishna's pastimes, will remain absorbed in thoughts of Krishna.
893 pages, hard bound with ribbon markers

Stock:

In Stock

Article Code:

ESADA

Weight:

1.08kg

Dimensions (L x W x H):

24.40cm x 18.50cm x 3.30cm

Euro Price:

24,75

Language:

English