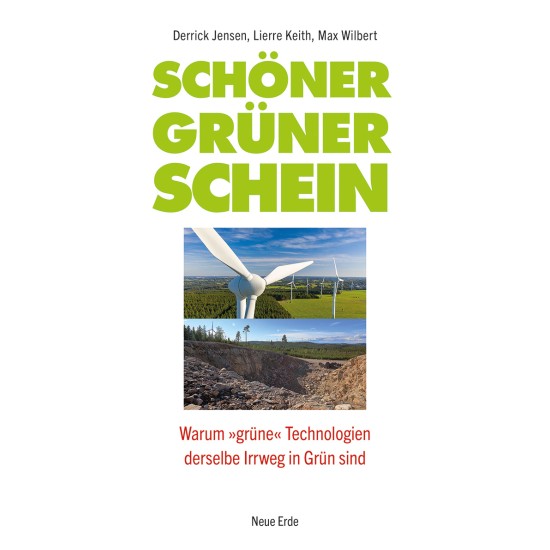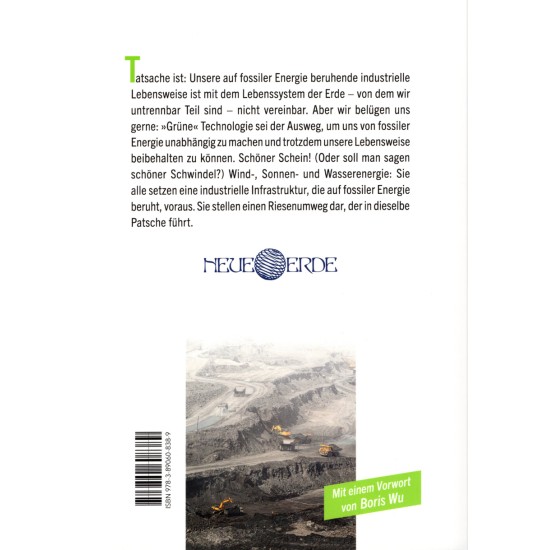 New


Schöner grüner Schein, Derrick Jensen • Lierre Keith • Max Wilbert
Warum «grüne» Technologien derselbe Irrweg in Grün sind
In diesem Buch legen Jensen und seine Mitautoren haarklein dar, dass all die »grünen Lösungen« schöner Schein sind und weit davon entfernt, in eine grüne Zukunft zu führen. Je länger wir vor dieser Wahrheit davonlaufen, desto schmerzhafter wird das Erwachen sein. Die Autoren dieses Buches fordern nichts anderes, als dass wir unsere Lebensweise grundlegend revidieren und uns auf die einzig wirkliche grüne Energie besinnen: Das Blattgrün der Pflanzen, die Sonnenlicht in Energie und in Nahrung verwandeln. Dieses Grün hat uns über die Jahrhunderttausende unseres Menschseins am Leben erhalten.
Tatsache ist: Wind-, Sonnen- und Wasserenergie: Sie alle setzen eine industrielle Infrastruktur voraus, die auf fossiler Energie beruht. Sie stellen einen Riesenumweg dar, der in dieselbe Patsche führt.

»Schöner grüner Schein« entlarvt die Heuchelei und den Bankrott der führenden Umwelt­gruppen und ihrer prominentesten Sprecher. Den bekannten Umweltschützern geht es nicht darum, die Wahrheit zu sagen oder gar rationale Lösungen für den drohenden Ökozid aufzuzeigen, sondern sie geben sich einer verlogenen und selbstsüchtigen Täuschung hin, die zwar Trost spendet, aber mit der Realität nichts zu tun hat. Sie drücken sich davor, das Offensichtliche festzustellen: Wir können uns nicht weiter in hedonistischem Konsum und industrieller Expansion suhlen und dabei als Spezies über­ leben. Wir weigern uns, die richtigen Fragen zu stellen, weil diese Fragen die nackte Wahrheit ans Licht bringen: Wir können nicht so weiterleben wie bisher. Dies wäre selbstmörderische Torheit.
Chris Hedges, Pulitzerpreisträger, Journalist und Autor von America: The Farewell Tour
»Schöner grüner Schein« demontiert die Illusion der »grünen« Technologie in atemberaubenden, umfassenden Details und enthüllt ein Hirngespinst, das verschwinden muss, wenn es irgendeine Hoffnung geben soll, zu bewahren, was vom Leben auf der Erde noch übrig ist. Von Solarzellen bis hin zu Windturbinen, von LED- Glühbirnen bis hin zu Elektroautos – keine grüne Fantasie entgeht Jensen, Keith und Wilberts aufschlussreichem Blick hinter den grünen Vorhang. »Schöner grüner Schein« ist ein Muss für alle, denen das Leben auf der Erde am Herzen liegt.
Jeff Gibbs, Autor, Regisseur und Produzent des Films Planet of the Humans.

517 Seiten, broschiert mit Klappen

Stock:

In Stock

Publisher / Brand: Neue Erde
Article Code:

DSGS

Weight:

0.69kg

Dimensions (L x W x H):

20.80cm x 14.70cm x 3.30cm

Euro Price:

41,40

Language:

Deutsch