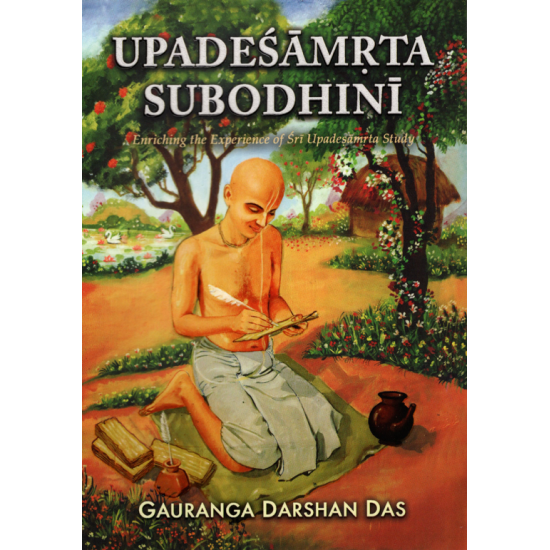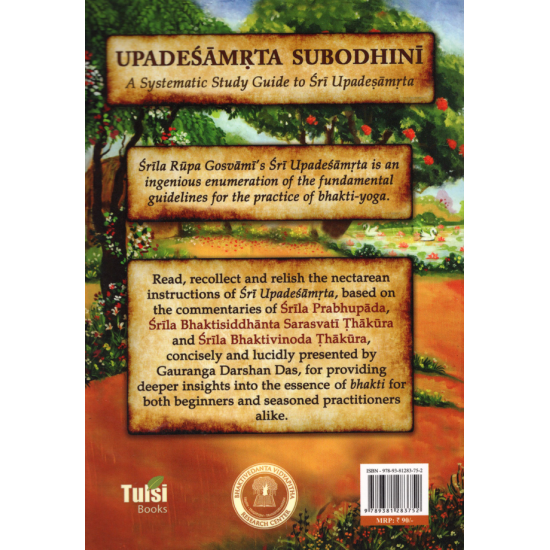 New Currently not available


Upadesamrta Subodhini, Gauranga Darshan Das
Enriching the Experience of Sri Upadesamrta Study
Upadesamrta Subodhini is a systematic study guide to Srila Rupa Goswami's «Sri Upadesamrta», which is an ingenious enumeration of the fundamental guidelines for the practice of bhakti-yoga.
Read, recollect and relish the nectarean instructions of Sri Upadesamrta, based on the commentaries of Srila Prabhupada, Srila Bhaktisiddhanta Saraswati Thakur and Srila Bhaktivinod Thakur, concisely and lucidly presented by the author, for providing deeper insights into the essence of bhakti for both beginners and seasoned practitioners alike.
Maintaining a similar style like that of his previous volumes of Subodhini series, Gauranga Darshan Das presents Upadesamrta Subodhini with relevant verse titles, line-by-line translations, key concepts and profound explanations from the acarya commentaries in simplified sections, subsections, flow charts and summary tables.
80 pages, soft bound

Stock:

Temporarily out of stock

Publisher / Brand: Tulsi Books
Article Code:

EUPSU

Weight:

0.07kg

Dimensions (L x W x H):

16.50cm x 11.60cm x 0.40cm

Euro Price:

5,85

Language:

English