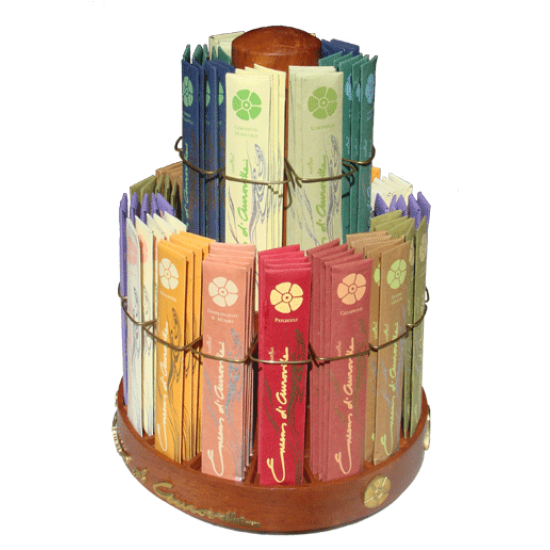 Natural Incenses «Encens d'Auroville»
Natural Incenses from South India

These incenses are made in the south Indian city Auroville in the state Tamil Nadu. The inhabitants of the surrounding villages make them with a lot of attention to the details always fresh and by hand. The production is done according to exemplary fair trade guidelines and clear ecological standards.
For the here available fragrances, only 100% natural oils, plants, flowers and resins are used. They meet the high level standard of Indian temples and not only spread an pleasant fragrance, but also purify the atmosphere.
The incenses are available in packages to 10 pieces and in twelve different fragrances. All the packages cost CHF 4.80 / EUR 4.00.
Package with 10 incenses of 20cm length
Order Nr: ICACE (Cedar), ICALA (Lavender), ICACY (Cypress Eucalyptus), ICAFR (Frangipani), ICALR (Lavender & Rosemary), ICAOL (Frankincense), ICAFM (Frankincense & Myrrh), ICAPA (Patchouli), ICALE (Lemongrass), ICAGM (Geranium Marigold), ICASN (Sandal), ICALV (Lemon Verbena), ICASV (Sandal Vetiver).
Stock:

In Stock

Publisher / Brand: Maroma, Auroville
Article Code:

ICA??

Weight:

0.02kg

Euro Price:

4,30