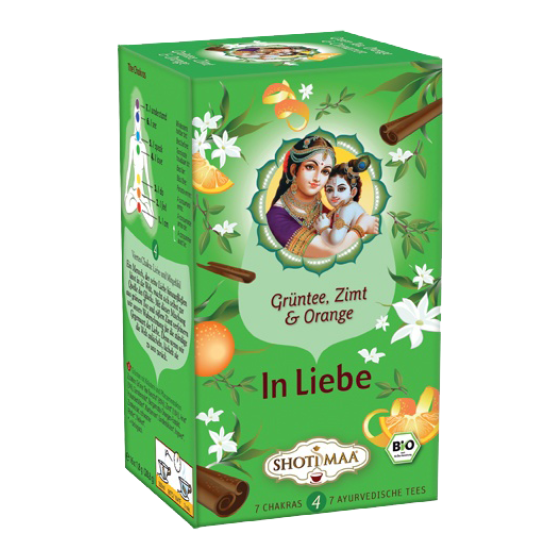 -20 %
Organic Loving Tea
Ayurvedic Herbal Tea Mixture

Printed expiry date: 29.01.2024
It is no secret that the mental stress of modern life affects us. This tea mixture is formulated to comfort your senses in different ways. Traditional and not-so-traditional herbs and spices are blended to give you an experience of meditative well-being. A fine brew from ayurvedic tradition, and each delicious cup stimulates the energy centers in the body – the «chakras».
Loving – I love: 4th Chakra – Emotions & Comfort (Yashoda):
«We are connected through the heart. Whatever happens with you happens with me. We are ripples in the same sea. This tea provides support to the 4th chakra, the energetic center which relates to matters of the heart. This tea is great to use when you wish to open your heart to an individual, yourself or the world.»
16 teabags, all without metal staple or glue. Individually sealed for protection of the flavor and for better convenience. 100% organic.
Ingredients: Green tea bancha (65%), cinnamon (10%), anise, barley malt, bergamot orange extract, elderflower, cardamom, linden flowers, ginger, cinnamon extract, black pepper, cloves (all ingredients are certified organic).
16 teabags of 2g each
Stock:

In Stock

Publisher / Brand: Shoti Maa
Article Code:

LTINL

Weight:

0.08kg

Euro Price:

4,50