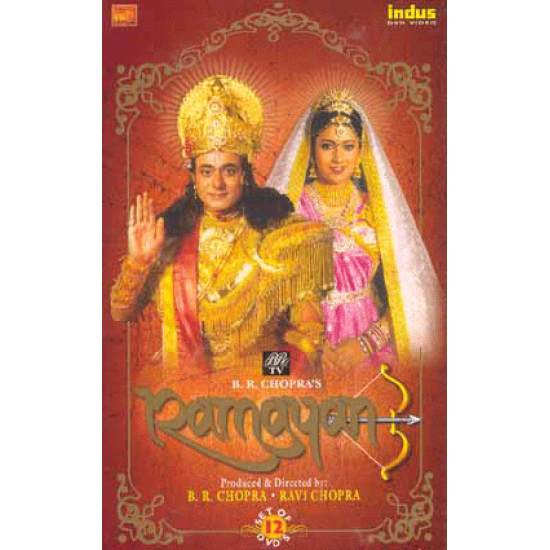 Ramayan (12 DVD Set), by B.R. Chopra
One of the most devout Scriptures of India
[EU-Price: € 144.00]
First told by the poet Valmiki in 24,000 Sanskrit verses more than 20,000 years ago, and then memorized and retold by Valmiki's disciples and passed down from generation to generation, the Ramayana has been central to Indian life. It has been the basis for understanding morality and spirituality for millennia.
Ramayana is a spellbinding adventure and a profound work of philosophy, offering answers to life's deepest questions. It tells of another time, when gods and heroes walked among us, facing supernatural forces of evil and learning from powerful mystics and sages. Revered through throughout the ages for its moral and spiritual wisdom, it is a beautiful and uplifting tale of romance and high adventure, recounting the odyssey of Rama, a great king of ancient India. Rama, along with his beautiful wife Sita, and his faithful brother Laksmana, is exiled to the forest for fourteen years. There Sita is kidnapped by the powerful demon Ravana. Along with Laksmana and a fantastic army of supernatural creatures, Rama starts a perilous quest to find his beloved Sita.
12 DVD-Set, approx. 33 hours
Language: Hindi.
Subtitles: English.
Star Cast: Nitesh Bhardwaj, Smriti Malhotra Irani, Gajendra Chauhan, Beena, Dolly Minhas & Sudhir Dalvi.
Stock:

In Stock

Article Code:

VDRA12

Weight:

0.52kg