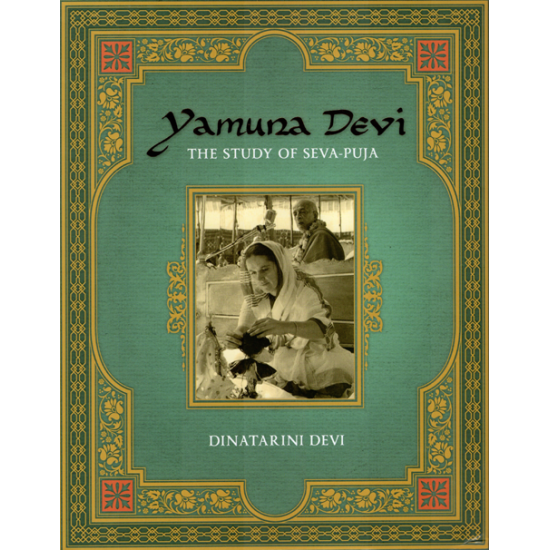 New
Yamuna Devi: The Study of Seva-Puja, Dinatarini Devi
Yamuna Devi's Deity Book
From the early 1970's to the end of her life, Yamuna devi lovingly conveyed a large, parchment-paged binder to each ashram she resided in. «The Deity Book», as it was dubbed, was placed in the temple room, and guest who perused it frequently asked Yamuna to Publish it. Before her passing, we planned to pursue its publications, and The Study of Seva-Puja is our humble attempt to honor Yamuna devi's wish.
His Divine Grace A.C. Bhaktivedanta Swami Prabhupada instructed Yamuna in the rudiments of Deity seva-puja in 1969 at John Lennon's Tittenhurst Manor in England. Using his own six-inch Radha-Krishna Deities, he taught her how to bathe, dress, decorate Them and perform arati. Yamuna wrote: «He told me I would serve as head pujari at our new London temple, [and] in later years, Prabhupada revealed layer upon layer of information to me regarding Deity worship and cooking. In whatever location we found ourselves, he continued to train me, and I have continued following that training throughout my life.»
Yamuna's lifelong dedication to Deity seva-puja grew from these early studies. The second section of the book showcases her own beloved Deities, Shri Shri Radha-Banebehari, who she began serving in 1975. Words cannot describe the joy she felt in Their service – whether planning festivals, designing dresses and jewelry, cleaning, cooking or sewing – she devotedly served Them throughout the remainder of her life. Yamuna devi's commitment to the highest standards of Deity seva-puja is an inspiration for all who aspire to serve the archa-vigraha form of the Lord.

194 pages + 92 pages appendix with Yamuna Devi's original Deity Book, a great many of color pictures throughout the book, thread bound with dust jacket and ribbon marker

Stock:

In Stock

Article Code:

ESEPU

Weight:

0.98kg

Dimensions (L x W x H):

24.00cm x 19.00cm x 2.20cm

Euro Price:

36,90

Language:

English