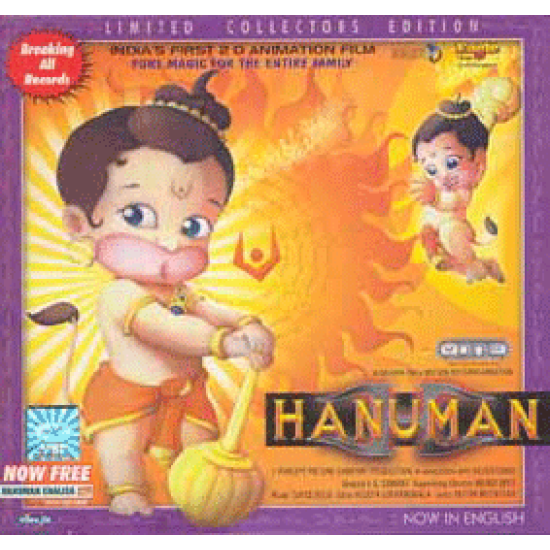 Hanuman (VCD)
The extraordinary Monkey God!
[EU-Price: € 19.80]
India's first 2D animated film on Hanuman!
Hanuman was born to Anjani, Female apsara and vayu the wind God. He was blessed with Supreme intelligence, Strength and divine Powers. As a baby, Hanuman was quite naughty and used his powers to pester the saints living in the nearby forest. Once when he was hungry he leapt to catch the sun thinking it was a fruit. On the instance of vayu, indra and the other gods came together to bless baby Hanuman of immortal life. Blessed with divine powers Hanuman grew up to be powerful and mighty. No harm could befall him from any weapons. Fire and water could not harm him. He could overcome death and above all he could transform his body to take the smallest from or attain the biggest form of life. He befriended lord Ram and Laxman in their search for sita. Hanuman with his super powers helped lord Ram and Laxman defeat Ravan and secure the releases of Sita. Seeing his devotion and love towards him, Lord Ram blessed hanuman with the boon of the immortality.
The Greatest Warrior Hero. The extraordinary Monkey god - three words that describe Hanuman. He is a symbol of Strength, courage and devotion. A great warior, he worshiped Lord Rama and battled the savagery of Ravana to rescue Sita, Lord Rama's wife. The epic mythological Ramayana abounds with stories of Hanuman's valour and mystical powers. He could fly, had legendary strength, could expand to gigantic proportions, and lot more. According to folklore, he is one of the few Hindu gods who still resides on earth at all times. It is sald that he shall live among humans as long as the name of Lord Rama is remembered.
ABOUT THE FILM:
India's first animated film on Hanuman. This VCD is a masterpiece that involved many hours of artistry and skill. It is a 90-minute world-featuring 40 characters. Close to 20 colours have been used for each character, and over 20,000 individual images were created during the animated process, by 250 cell animated artists over two years. This epic movie has been created by the master animator, Vasant Gajanan Samant, who pioneered animated in India and has produced animated series for LA-based companies. Hanuman speaks through the voice of leading television actor Mukesh Khanna, who is also known as Shaktiman to children all over. Other entertainment biggies who have lent their voices to his project are shaan, Kailash Kher, Palash Sen, Saapna Mukherjee, madhushree and Sneha Pant. The talented Tapes Relia has composed the Movie's music score. The film has been dubbed in both English and Hindi.
VCD (Set of 2), 90 min.
Language: English
Subtitle: non
Stock:

In Stock

Article Code:

VDHAN

Weight:

0.11kg