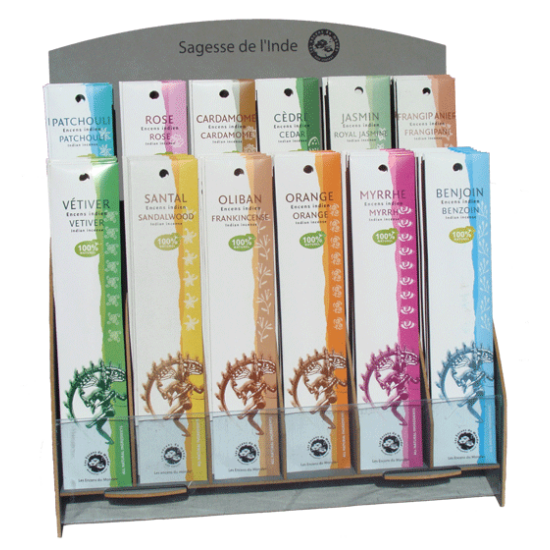 Natural Incenses «Encens-du-monde»
Natural Fair Trade Incenses from India

Out of completely pure blooms, herbs, barks, resins and essential oils, these incenses are made according to ancient ayurvedic recipes and are produced traditionally by hand. They meet the high level standard of Indian temples and not only spread an pleasant fragrance, but also purify the atmosphere.
These Fair Trade incenses are available in packages to 20 piece (exceptions: Sandalwood: 18 Piece • Rose: 18 Piece) and in twelve different fragrances. All the packages cost CHF 7.80 / EUR 6.50.
Package with generally 20 incenses (exceptions see above) of 45 min. burning time
Product Code: ICDBE (BenzoiI), ICDCE (Cedar), ICDOR (Orange), ICDFR (Frangipani), ICDRO (Rose), ICDVE (Vetiver), ICDPA (Patchouli).n), ICDCA (Cardamome), ICDSN (Sandalwood), ICDMY (Myrrh), ICDOL (Frankincense, Oliban), ICDTI (Tiare Flower).
Stock:

In Stock

Publisher / Brand: Düfte der Welt
Article Code:

ICD??

Weight:

0.03kg

Euro Price:

7,20