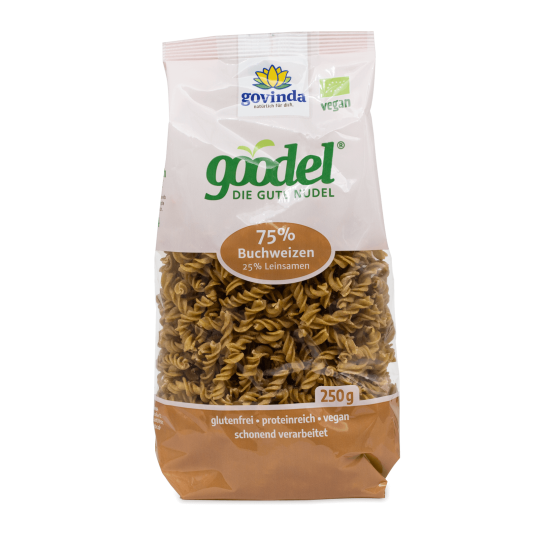 New
Bio Goodel Buckwheat Spirals, 250g
gluten-free • high in protein • vegan • gently processed

The special thing about these Goodels compared to other gluten-free pasta: their gentle processing. Other manufacturers heat and pasteurize their gluten-free pasta multiple times. These Goodels were spared that, they were gently dried. Only pasta of raw food quality, which has been heated to a maximum of 42 degrees, ends up in the pack.
The good ingredients in this Goodels: buckwheat and golden linseed. Buckwheat, like quinoa, is a pseudocereal. Therefore, even if you are gluten intolerant, you can buy it without worrying. Buckwheat has a nutty, sometimes slightly bitter taste. They taste best in a pasta and vegetable salad with lots of fresh vegetables or with a fresh, fruity sauce.
Preparation: Put in lightly salted, boiling water and cook for 4 minutes (it is essential to observe the cooking time exactly). Some foaming is normal. Drain the Goodels through a sieve and rinse with cold water.
Ingredients:
75% buckwheat flour, 25% ground golden-yellow flaxseed (all ingredients from certified organic farming).
Package of 250g

Stock:

In Stock

Publisher / Brand: Govinda Natur GmbH
Article Code:

LMGBW

Weight:

0.26kg

Euro Price:

4,50