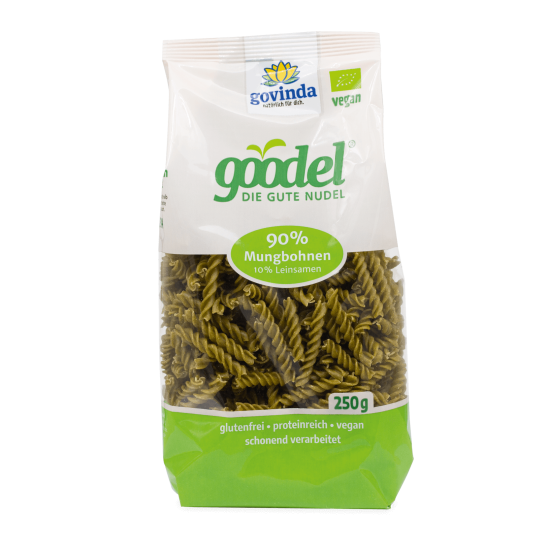 New
Bio Goodel Mung Bean Spirals, 250g
gluten-free • high in protein • vegan • gently processed

The special thing about these Goodels compared to other gluten-free pasta: their gentle processing. Other manufacturers heat and pasteurize their gluten-free pasta multiple times. These Goodels were spared that, they were gently dried. Only pasta of raw food quality, which has been heated to a maximum of 42 degrees, ends up in the pack.
The good ingredients in these goodels: 90% mung beans and golden linseed. The star of the list of ingredients are the mung beans: the mung bean originally comes from India. In Asian cuisine in particular, they are often found in their sprouted form in dishes, and the legumes provide you with an extra portion of protein. That's why they're perfect for a high-protein lunch or dinner. Together with the flaxseed, they give the Goodels a slightly nutty taste. Try them with a hearty sweet lupine Bolognese, for example.
Preparation: Put in lightly salted, boiling water and cook for 4 minutes (it is essential to observe the cooking time exactly). Some foaming is normal. Drain the Goodels through a sieve and rinse with cold water.
Ingredients:
90% mung bean flour, 10% ground golden-yellow flaxseed (all ingredients from certified organic farming).
Package of 250g

Stock:

In Stock

Publisher / Brand: Govinda Natur GmbH
Article Code:

LMGMB

Weight:

0.26kg

Euro Price:

4,50