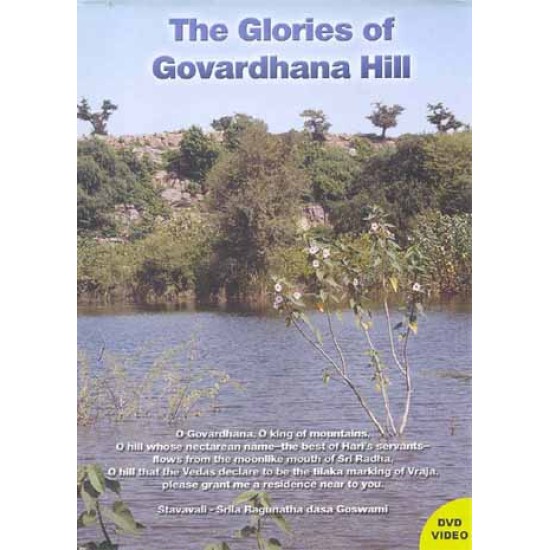 The Glories of Govardhana Hill, Bhakti Caitanya Swami (DVD)
[EU-Preis: € 15.90]
Govardhana Hill is acknowledged throughout the Vedic scriptures as the most sacred mountain in all the three worlds. It has descended from Goloka Vrindavana, and it is the crown jewel of Vraja. The Vedas also inform us that Govardhana Hill is understood in two different ways. First, as the greatest devotee of Lord Krishna, and second as being non-different from Lord Krishna Himself.
This DVD contains amazing and touching scenes and video shots, presented within 28 different locations arround Govardhana Hill. Interactive menu - with links to each parikrama location. Commentary by H.H. Bhakti Caitanya Swami.
Locations: Radhakunda; Kusum Sarovara; Uddhava kunda; Narada kunda; Ratna kunda; Gvala Pokhara; Govardhan Town; Manasi Ganga; Dana Ghati; ISKCON Govardhana; Anniyora Town; Jatipura; Harjiu kunda and Rudra kunda; Surabhi kunda; Dauka Dauji; Indra kunda; Rasasthali; Puncari-Nrsinga temple; Naval kunda and Apsara kunda.
DVD "The Glories of Govardhana Hill" (engl.)